What is GRP Fibreglass Roofing?
GRP Fibreglass Roofing is the most popular form of flat roof in the UK, it is made from Glass Reinforced Plastic (GRP), which is a material consisting of plastic strengthened using glass fibres.
This type of roofing is extremely popular because it's strong and durable, but it doesn't add too much weight to the building. GRP Roofing also lasts a long time, experts say it can last for at least 25 years.
Our GRP Roofing Sheets were designed to withstand harsh environments and they're a preventative measure against leaky flat roofs for the long term.
GRP Rooflights are used to provide natural light into a building, this reduces the electricity costs of running the factory or building which is a great method of saving money in the long-term.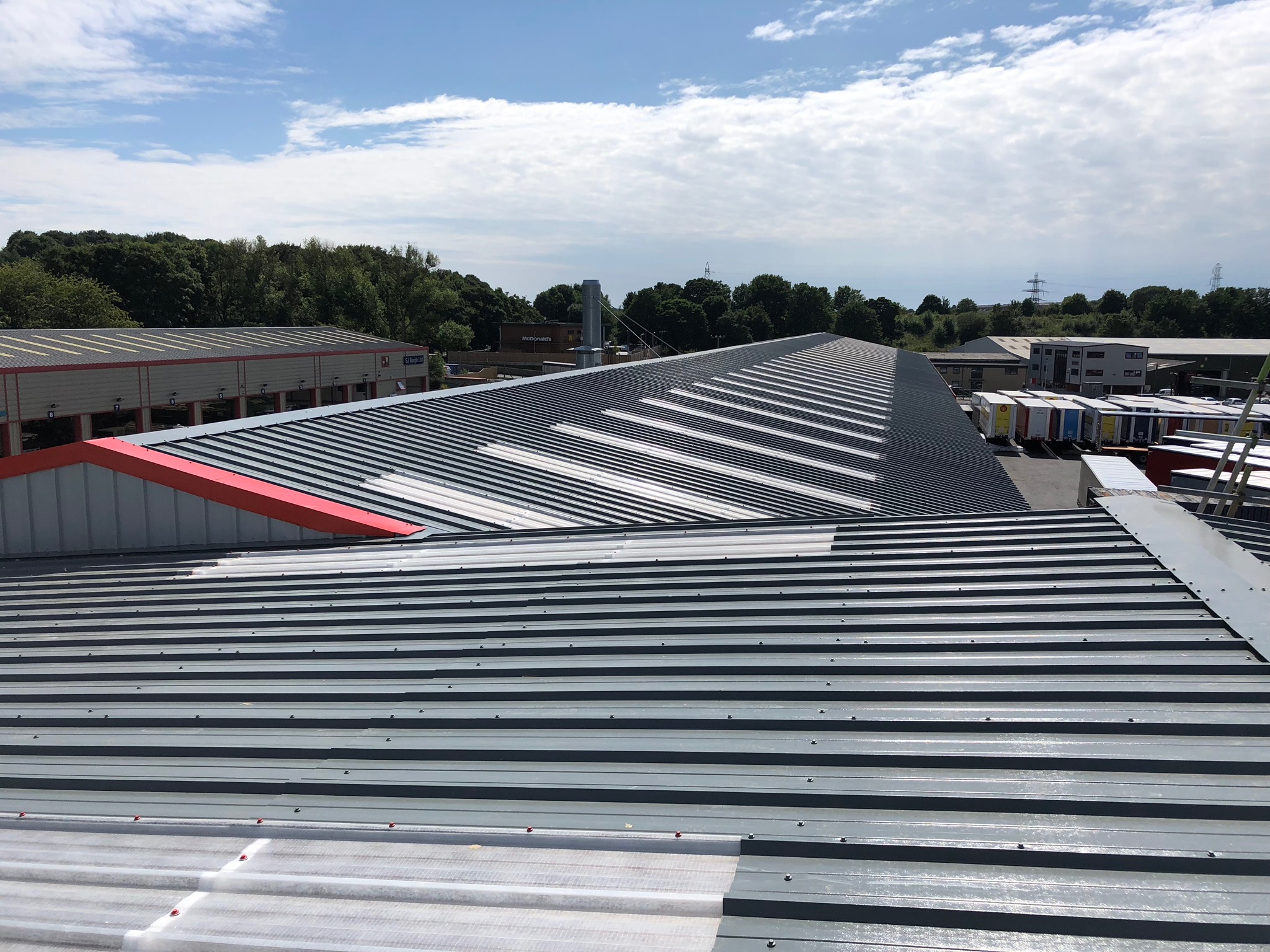 Our team of highly skilled contractors can install GRP Rooflights and Sheets to the highest standard possible, we're the first choice for many customers when they require GRP fibreglass roofing contract work to be undertaken, this is why we've been serving Lancaster for over 30 years.
GRP Rooflights
Along with our GRP Roofing sheets, we can also supply and fit roofing lights for you. Wear and tear on Roof Lights in a sheeted roof construction is always a common cause of leaks and light reduction into a building, therefore, when Overcladding a roof it is advisable to change the old roof lights before installing the new roof cladding.
Our roof lights and grp roofing sheets provide an even balance of natural light within any industrial building. This saves both electricity and energy costs by reducing the need of artificial light.
When installing a Composite Panel Roof, we use factory sealed and assembled GRP Roof Lights, in which we either install Double or Triple Skin depending on the U Value required and the requirements of the build.
Advantages of GRP Roof Lights & Sheets:
Low Maintenance – Once the lights or sheets have been installed, there's almost nothing you need to worry about, apart from the occasional time they need cleaning.
Reduce on-going costs – When properly installed, grp roof lights will last an extremely long duration and their lifespan are much longer than other industry types.
Natural Light – Of course, installing grp roof lights and sheets enable an increased volume of natural sunlight being invited into your building. This results in less cost needed for artificial light.
Durability – This type of roofing is extremely strong and durable, meaning it is able to withstand harsh weather environments.
No Leaks – GRP Roofing is a preventative measure against leaks in roofs for the long term.
If you are interested in our GRP Roofing Sheets & Light services or are looking to find out more information regarding our services, give us a call on 01524 751177 or fill in our contact form below, our specialist team would be more than happy to help!