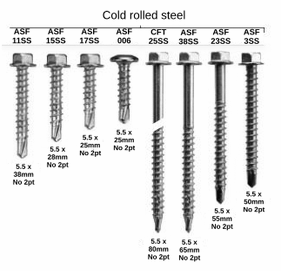 Self Drilling Screws for Steel
Self drilling screws are a very quick, efficient way to fix roof and side cladding.
The Screws we supply come in various lengths from 25mm up to 150mm long, and are perfect for fixing single skin box profile cladding right up to 120mm thk composite come complete with a drill point.
They are available in hex head which can then be fitted with a colour cap to match the cladding or with a complete plastic moulded head the same colour as the cladding all can be fitted with a bonded washer 16, 19 or 29mm for GRP or plastic roof lights.