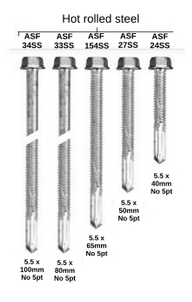 Heavy Drill Screws
We can supply heavy drill screws in both hex head or bi hex (plastic moulded head). These are perfect for drilling into heavy steel from 10mm to 18mm thick and can be supplied with or without a bonded washer.
Usually, these screws will have a very fine thread with a long drill point, and the speed at which these screws are installed is quite important. For further help, advice and information, please do not hesitate to contact us.
contact us
Please get in touch today if you have any questions, we will be more than happy to help.